Competitor Analysis
A Competitor Analysis helps you to understand your competition. It supports you in creating your unique position in the market. With this analysis you make an assessment of the strengths and weaknesses of your current and potential competitors. With a better understanding of your competition you can choose and implement effective strategies that will improve your competitive advantage.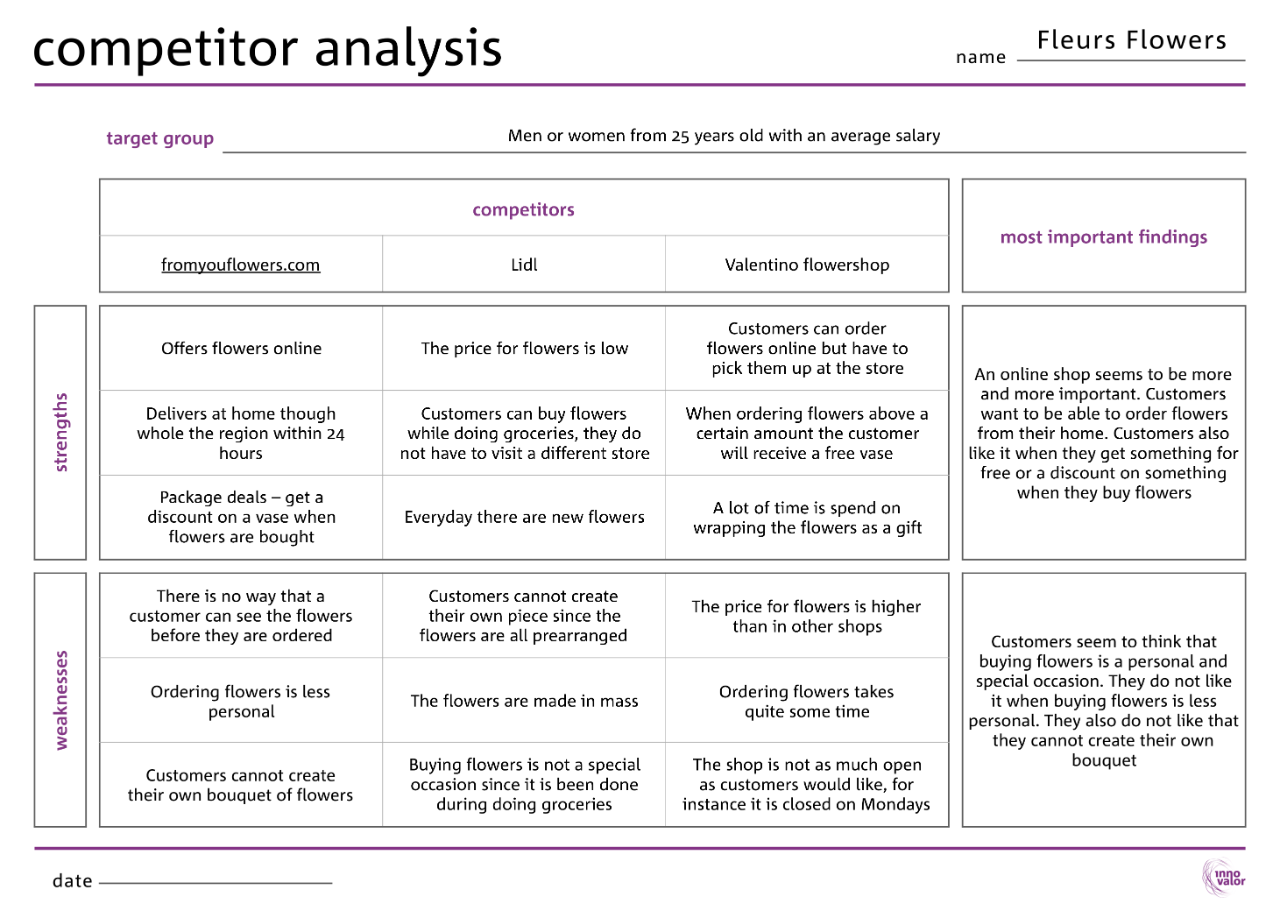 Tips for use
With the Competitor Analysis you analyze your competitors' strengths and weaknesses. This tool can easily be used by yourself, or with colleagues. Print the template and use the tool to create an understanding of your competition.
Have a look at the example of Fleur Flowers to get an understanding of a Competitor Analysis.
How to use
With the Competitor Analysis you analyze your competitors' strengths and weaknesses. Follow the steps to complete your own Competitor Analysis.
Summarize your target group
Shortly describe your target group. Who are the customers that buy your offering? Make the description as specific as possible. If your target group consist of businesses you can mention their size, industry or their offering. If your target group consist of consumers you can mention their age, goals, gender, education level or interests.
Identify your competitors
Write the names for up to three competitors in the first row. To help you generate this list, think of where your customers would go if they cannot buy your product or service.
Determine competitors' strengths and weaknesses
Now think like your customers. Why would a customer go for the services of your competitors instead of coming to your company? You can describe this by thinking about the offerings of your competitors. It would even be better when you visit your competitors and experience what their customers experience. Write down three strengths of each competitor. Also consider why customers would not go to your competitors. Write down three weaknesses of each competitor.
Describe the key findings
Finally, in the fourth column of the template write down the key findings for the strengths. What stands out? What patterns can you discover from your competitors? And which opportunities can you come up with? Also, write down your key findings for the weaknesses. What are the aspects that your competitors don't do well? How could you avoid making the same mistakes? What should you do to serve your customers in such a way that you differentiate from your competitors in a positive way?